Magpul Pmag M3 7.62 20rd Blk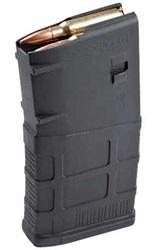 | | |
| --- | --- |
| Available | In Store |
| MSRP | $1995 |
Magpul Pmag M3 7.62 20rd Blk
The PMAG 20 LR/SR GEN M3 brings many of the M3 improvements to the 20-round 7.62 NATO/.308 Winchester SR-25 magazine form factor and replaces the previous generation MAG243 in our line.

The 7.62x51 NATO (.308 Winchester) PMAG 20 LR/SR GEN M3 is a lightweight, cost effective, high reliability magazine for SR25/M110 pattern rifles featuring true 20-round capacity, constant-curve body, anti-tilt follower, and snap on Impact/Dust Cover. Designed specifically for military-issue MK11/M110 rifles and mil-spec ammunition (including M118LR), the PMAG 20LR/SR is less than half the weight of standard issue steel magazines and maintains a service life round count approximately equal to the rifle barrel itself.

Optimized for use with 7.62x51 NATO (.308 Winchester) ammunition with an overall cartridge length less than 2.820"

Commercial rifle compatibility includes the new Armalite AR-10A, Bushmaster .308 ORC, Colt LE901-16S, CORE Rifle Systems CORE30, DPMS, LR308, JP Enterprises LRP-07, KAC SR25, LaRue OBR, Les Baer .308, LMT .308 MWS, LWRCI REPR, Mega Arms MATEN, POF P-308, Remington R-25, S&W M&P10, SIG716, and others.

NOTE: NOT compatible with Armalite AR-10B, Noveske N6, Springfield Armory M1A, Rock River Arms LAR8, FN SCAR 17S, PTR-91, HK417 or any other rifles that utilize M14, FN FAL, or HK 91/G3 patterned magazines.
Item Info
| | |
| --- | --- |
| Item | Available In Store |
| UPC | 873750008509 |
| Brand | Magpul Industries |
| Model | M3 |
| Mfg No | MAG291-BLK |
| Caliber | .308 Winchester |
Tech Specs
| | |
| --- | --- |
| Type | Mag |
| Capacity | 20Rd |
| Finish Color | Black |
| Fit | DPMS/SR25/LaRue OBR |